+sub content
page locationHOME - ABOUT
THE ASIA FUTURE FORUM?
What Is the Asia Future Forum?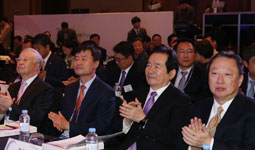 This year, the Asia Future Forum is celebrating its 8th edition, hosted by the Hankyoreh Media and organized by the Hankyoreh Economy & Society Research Institute. The Asia Future Forum will be a great opportunity to find a way to foster collaboration among Asian countries with finding a balance between global prosperity and sustainability as its discussion topic. We are going to talk about Asian values that can be differentiated from so-called Western values, the business innovation, the relationship between business and society, and the roles of the government and civil society at a time of crisis and change at various levels.
This forum will play a key role as an Asian hub for a knowledge network in encouraging citizens, the youth, and mentors including globally recognized scholars, government officers, political leaders, social activists, and entrepreneurs to get together, share their ideas, and foster collaboration.
Co-Chairpersons of ASIA Future Forum Organizing Committee
Kim YounghoChair Professor, The Academy of Korean Studies
Park YongmaanChairperson, Korea Chamber of Commerce & Industry
Yang SangwooPresident, Hankyoreh Media
Members of ASIA Future Forum Organizing Committee
Park YoungchulChair Professor, Korea University
Park WonsoonMayor, Seoul Metropolitan Government
Sohn KyungshikChairperson, CJ Group
Lee KeunProfessor, Seoul National University
Lee JoungwooEmeritus Professor, Kyungpook University
Lim HyunjinEmeritus Professor, Seoul National University
Chung UnchanChairperson, Korea Institute for Shared Growth
Kim JongguExecutive Editor, Hankyoreh Media
Lee Changgon President, Hankyoreh Economy & Society Research Institute